ABOUT US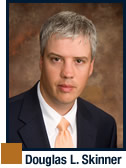 Douglas L. Skinner, CFP
®

, MBA

Doug has been with Skinner, Copper & Ehmen for over 12 years and has been a financial advisor since 1999. He received his MBA and bachelor's degree from the University of Illinois at Springfield. Doug spent sixteen years with Bank of Springfield, where he served as Vice President managing the Investment and Trust Departments. While at Bank of Springfield, he also served as the AVP of Commercial and Mortgage Lending. In addition, Doug was a committee member on the Asset & Liability Committee, which made decisions about how the bank managed its own money.

Doug is the father of three children and has been married to his wife, Kari, for over 25 years. Doug spent many years coaching youth sports, mainly competitive baseball. In his spare time, he enjoys fishing, traveling, and golfing. He has previously spent time supporting SPARC, Big Brother Big Sister and the Sangamon Medical Society in various capacities and is a member of the Sangamon Valley Estate Planning Council. He also currently serves on the Illinois State Board of Directors of the Fellowship of Christian Athletes (FCA). With nearly 30 years of financial services experience, Doug specializes in comprehensive financial plans, retirement income strategies, and portfolio management for his clients.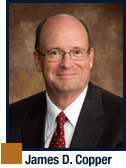 James D. Copper, CLU, CFP
®
Jim attended the University of Illinois as a James Scholar. Upon graduating in 1969 with a degree in math, Jim began teaching in Dwight, IL. He eventually moved to Mt. Pulaski where he taught and coached basketball until 1977, his team winning the State Basketball Championship in 1976. Jim left teaching and joined Northwestern Mutual Life in 1977, becoming one of a handful of pension specialists in the country. In March of 2000, Jim and Ryan left Northwestern to build a more comprehensive planning practice. The independent and flexible structure of this new venture allowed Jim to more effectively use his years of experience as well as the expertise he had attained earning the designations of CFP, (Certified Financial Planner), and CLU, (Chartered Life Underwriter). Jim is the architect and implementer of the Confidence Focus Experience™, a unique life planning process. This process strives to enable its participants to build the confidence and financial freedom that allows them to enjoy family, hobbies and other personal endeavors. Jim has a singular passion for seeing that his clients have the free time to pursue their hobbies, as he engages in many himself, among them fishing, hunting, and woodworking. Located in Springfield, IL, Skinner, Copper & Ehmen works with clients in all parts of the United States and around the world developing either comprehensive financial plans or specialized tactical planning.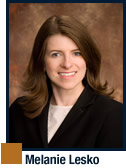 Melanie Lesko
Melanie graduated from Western Illinois University Summa Cum Laude with a degree in Finance and has been working in the banking and financial services field for over 27 years. As a financial advisor, she assists her clients at Skinner, Copper & Ehmen with their retirement planning and investment needs. Melanie is also the firm's Long-Term Care and 401K specialist. Melanie enjoys traveling and other family activities with her husband and three daughters.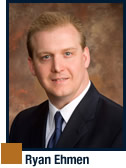 Ryan Ehmen, CPA, PFS
Ryan, a father of 4 children, graduated from Western Illinois University in 1998 with a degree in Political Science and a minor in German. He began working for Jim Copper as an Associate Agent in 1999. As the managing partner and Registered Principal of Skinner, Copper & Ehmen, Ryan currently performs data analysis, investment due diligence and technology research to be used in all phases of the Confidence Focus Experience™. Since starting his financial career, Ryan has attained his CPA and PFS conferred upon him by the AICPA (American Institute of Certified Public Accountants), FINRA (Financial Industry Regulatory Authority) Series 6 (Investment Company Products/Variable Contracts Limited Representative), Series 7 (General Securities Representative), Series 24 (General Securities Principal), series 51 (Municipal Fund Securities Principal), Series 63 (Uniform Securities Agent State Law Exam), and Series 65 (Uniform Investment Adviser Law Exam) licenses and graduated from the University of Illinois-Springfield with a Masters in Accountancy. When not attending to business or family, Ryan is a rhythm guitarist and singer for "The Rowdy Jones Band".
Cindy Williams
Cindy received her Bachelor of Arts degree in Corporate Communication from Doane College in 1997. Her skills are vast and varied with experience in business, education, and healthcare. After moving to Springfield from Lincoln, NE she joined Skinner Copper & Ehmen to support our advisors and clients with attentive and thorough service. In her spare time, Cindy enjoys spending time with her children and cheering on the Huskers.
Tom Kazenski
Tom attended Illinois State University where he majored in Economics with a concentration in Business and Government. He came to Skinner, Copper & Ehmen with 20 years of experience working in the mortgage industry and secondary financial markets. His previous roles as both an account executive and an operations supervisor give him a diverse range of skills which are beneficial in his support of our clients and the advisors in our office. Tom enjoys the outdoors, biking and hiking, and spending time with his wife and their four children.